The Secret Archive of Amightyfraud
Everything will be coming out of the bag. Documents, screencaps, photos, videos, EVERYTHING.....
1st video, one of many to come. Moar LIES from the WHORE B!TCH of amightywind...
The neverending harassment from lowlife scumbag, amightyfraud champion "ironcross", "ironcross66106" and numerous other handle names...
Sherry Shriner's testament to years of harassment from the amightyfraud crew
Jack Barr's warning about amightyfraud
Amightywind False Prophet Website run by Anonymous
More to come.......
Kitty Says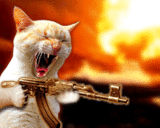 DEATH TO THE WHORE OF BABYLON
*AND*

Join the Blue Ribbon Online Free Speech Campaign
Despite the crap my enemies spew about me, I am reachable by email.. xenacarpenter@yahoo.com